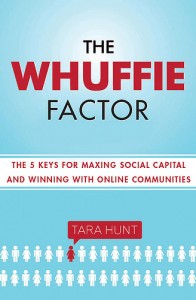 Twee jaar geleden vroeg ik het in een column op BNR-nieuwsradio al aan jullie: "Weet u wat Whuffie betekent?"
Ik vertelde toen over Tara Hunt die door het boek "Down and out in the magic kingdom" van Cory Doctorow was geïnspireerd en waarin stond dat Whuffie een nieuwe valuta is, namelijk de online variant van social capital.
Het gedachtegoed van Miss Rogue (haar bijnaam) is inmiddels uitgegroeid tot een zeer overtuigend verhaal en is in Amerika ook in boekvorm verschenen. De titel van het boek is "The Whuffie Factor".
Tot mijn genoegen kan ik bij deze aankondigen dat het boek ook in het Nederlands verschijnt. Timo Boezeman vertelde mij trots dat het in zijn najaarsaanbieding zit.
Het boek is ook te bestellen is bij Bol.com.