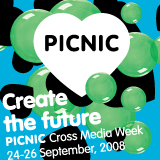 Deze week start de Crossmediaweek weer, of eigenlijk: PicNic'08. Elk jaar weer een genot om daar een aantal dagen rond te lopen. Ik kijk uit naar:
Clay Shirkey, schrijver van het boek "Here comes everybody"
Werner Vogels, chief technological officer Amazon
The Emerging Real-Time Social Web, paneldiscussie met onder meer Linda Stone, Jyri Eckstrom en Addy Feuerstein
Loic Lemeur, de oprichter van Seesmic
En natuurlijk het ontmoeten van al die leuke, interessante mensen die ook naar het Westerpark komen.
Klik hier voor het hele programma.