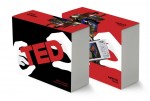 Komende dagen ben ik op het mooiste congres ter wereld: TED. In hun eigen woorden omschrijft de organisatie het als volgt:
TED stands for Technology, Entertainment, Design. It started out (in 1984) as a conference bringing together people from those three worlds. Since then its scope has become ever broader.

The annual conference now brings together the world's most fascinating thinkers and doers, who are challenged to give the talk of their lives (in 18 minutes).
Vorig jaar was mijn eerste ervaring met TED (als bezoeker) en dit jaar is het extra spannend omdat ik op de vrijdagochtend ook zelf op het podium te vinden ben.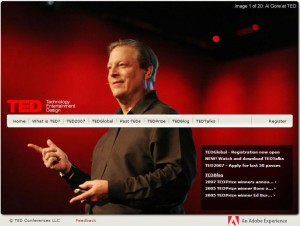 Het principe achter TED is tamelijk bijzonder. Er mag per jaar maar een beperkt aantal mensen (1500?) naar het event zelf, maar verder doet de organisatie er alles aan om het hele jaar een TED-experience te bieden. Zo krijg je een aantal keer per jaar een boekenpakket opgestuurd en worden de opnames van de jaarlijkse presentaties stuk voor stuk gratis via internet beschikbaar gemaakt zodat iedereen er van kan genieten.
Mijn favoriete talks (als ik er 3 moet kiezen) zijn:
Tot slot nog wat kleine lettertjes:
ik ben van 3 tot en met 10 februari weg
het wordt afgeraden om tijdens het congres met laptops te werken
's-avonds zal ik wel mail lezen en in urgente gevallen telefoneren
mijn presentatie gaat over "virtual happiness"… en is nog niet af 🙂